What do you get in Google G Suite?
Google's first business application was GMail, its hosted email solution, but G Suite today (formerly known as Google Apps) includes a great deal more than just email, including documents editing, storage and sharing, video and voice conferencing, and integration with other applications.
A distinctive feature of G Suite is that it is not tied to any desktop applications. You get full functionality using just a web browser. As you would expect, there is also strong support for Android, Google's mobile operating system, and for Chromebook laptops- bear in mind that Chromebook is essentially an operating system built to run the Chrome browser.
G Suite plans
Before looking at the various applications, here is a quick look at G Suite plans. Google changes these plans from time to time, so please check here for the latest information.
Consumers can use many elements of G Suite for free, including GMail, Google Drive cloud storage, Docs, Sheets, Slides, Forms and Photos. You get 15GB storage total across all these services. You can purchase additional storage, eg 100GB for £1.59 per month (at the time of writing).
Business plans are as follows:
Basic has 30GB storage per user, access to all Google's applications, phone and email support.
Business has unlimited storage (or 1TB per user if fewer than 5 users), plus the ability to set email retention policies, search across your G Suite data, auditing and eDiscovery.
Enterprise adds data loss protection (rules to detect things like sharing credit card numbers), S/Mime secure email, and GMail log analysis, and a security centre. There are also some extra conferencing features.
The Team plan is for customers who do not require email and includes unlimited cloud storage, documents and conferencing.
Applications in G Suite
The following will go out of date quickly, but at the time of writing these are the main applications in Office 365, all of which can be used with only a web browser and an internet connection except where noted. There is a short description for each, though of course there is no room for detail.
Calendar Online calendar. Schedule meetings with access to colleague availability. Reserve conference rooms. Share and publish calendars on the web.
Cloud search. Search across your organisation's data.
Docs: Word processing with strong collaboration tools, for example simultaneous document editing with others. Very easy to publish a document to the web. Download in a variety of formats incluidng Microsoft Word and Adobe PDF.

Drive. Cloud storage with optional desktop sync.
Forms. Quickly set up forms for surveys and questionnaires. See results in a spreadsheet.

Gmail Email for your business. Fast and reliable. One thing to note: there is no specific Windows or Mac G client. You can use Outlook, Thunderbird, Apple Mail or Windows Mail, or other clients. However there is an offiicial (Windows-only) Outlook add-on called G Suite Sync for Microsoft Outlook. This synchronizes email, contacts, calendar, tasks and notes between Outlook and Gmail. This also assists with migration of email from Outlook to Gmail. Most things work but because Outlook is designed for Exchange, there are a few annoyances. For example, if you use Outlook on more than one PC, task reminders and a few other things do not syncrhonize.
Google+. Corporate social media networking.
Hangouts: Video calls, online chat, online conferencing.
Jamboard. Whiteboard-style planning and brainstorming.
Keep. Notes application.
Sheets: Spreadsheet.
Sites. Team website with access to shared files, documents and calendar. Can also be published outside your organization.
Slides. Presentations.
Vault. Archiving and ediscovery for email, files and chat.
Google does not have a CRM solution but does have a partnership with Salesforce, or you can integrate with other CRM applications such as Zoho.
Administration
G Suite has a web dashboard for managing users and other aspects of your organization. You can also install add-on applications from the G Suite Marketplace.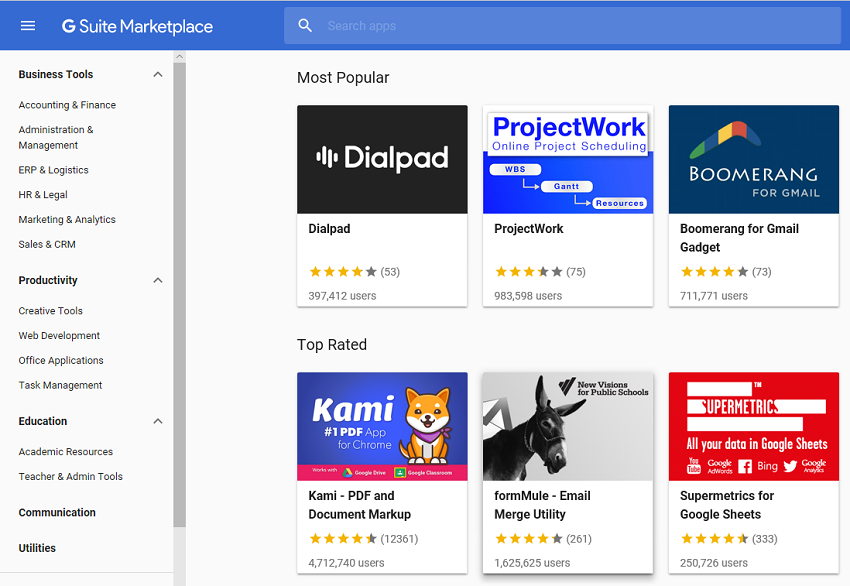 Directory options
Many businesses run Microsoft Active Directory (AD) to manage their users. If this is the case, you can set up synchronization between your AD and G Suite using Google Cloud Directory Sync. However this does not synch passwords. You can synch passwords using G Suite Password Synch but this requires users to change their AD password before it will synch. It is a less complete offering than Microsoft's AD Connect (for Office 365), but also simpler to manage.
Alternatively you can make the G Suite directory your primary business directory. Users with Android or Chromebook devices can sign in with their Google account. Users with PCs or Macs will have a separate sign-in password, but signing into G Suite from their web browser will give them access to everything. This works best if you do not need any on-premises shared folders and so on.
Strengths and weaknesses
G Suite is web-based. The engineering is generally excellent and the applications are smooth and work well. Collaboration is easy to use and very effective. It is generally easy to manage and cost-effective. It is excellent for geographically dispersed staff.
G Suite is less strong when it comes to integration with Microsoft Office (as you would expect) and Active Directory. If you have more of a hybrid setup, with some on-premises infrastructure, G Suite may not integrate so easily.
Nevertheless, this is a great solution which means you can do all your work from anywhere with an internet connection, and not worry about maintaining PCs and servers.
Want help with migration? Click the Contact Us link at the top right of this page.